Quality headstones can be hard to find, especially when a family is unsure of what they may be looking for. Shopping and creating a monument or a memorial headstone isn't a common purchase, and isn't really a purchase we look forward to either. The average family doesn't even really sit down together to discuss these types of matters, so knowing where to start in the search can be hard. It is our goal to offer a starting point in your search for your family members memorial headstone.
Shop Local for Headstones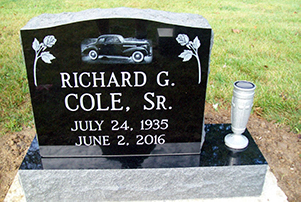 Finding the highest quality headstones often is as easy as starting local. After the death of a loved one, deciding upon a cemetery, finding their rules and regulations for gravestones and all of the other arrangements can be overwhelming. Many times, when using a local memorial provider, they will be able to help you connect all the dots, and answer questions for you and your family. In contrast, sometimes you may lose those helpful suggestions and years of caring expertise when shopping online. When utilizing a local memorial provider, they will be able to help you create your loved one's headstone from start to finish.
Ask Questions
Quality headstones come in many styles, colors, sizes, and of course many different prices. It's okay to ask your provider questions. If you don't know what to expect, don't be afraid to ask where to start. If you are not sure what style memorial you prefer, your provider should be able to show you examples and help you decide what feels right for your family.
Here at Delphos Granite Works we work hard to create only the highest quality headstones available today. We know that each headstone will stand as a memorial for a loved one for many generations to remember and enjoy. We consider it a great honor and privilege to stand with a family in a time of healing, and to help guide them in the memorial process. We look forward to serving you and your family, and hope we can make finding and creating the perfect memorial headstone a pleasing process. Contact Us Today!