Not all gravestones are created equal, and only the ones made of the best material and quality will last through time. With so many options available, it can be a difficult decision to navigate, especially during the healing process. Some of the most beautiful and durable gravestones available today are granite memorials. They are each unique, can be customized to order, and these granite beauties stand the test of time and weather. When you visit a cemetery it's easy to see why so many choose granite memorials to mark their loved ones resting spot.
Finding a Gravestone Provider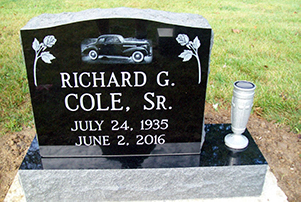 When you begin the process of searching for a memorial for your loved one, your provider will be able to help you navigate all the different grave marker options. Choice of cemetery may limit your options in some small ways as far as size or color. It may be a good idea to ask those type of questions before you get started, especially if you have very specific ideas of what kind of memorial stone you want.
Also, when choosing a provider, you will want to keep in mind that cheaper isn't always a better deal. Be sure to double check what is being provided in the package you are purchasing. Many online monument companies will create gravestones using techniques that will not last throughout the years. For example, their etching techniques may look nice at the time of purchase, but after a few years in the elements, they wash away, or are basically invisible. Another potential missing service in these packages might be installation. However in contrast, when purchasing from a trustworthy provider, you will not have to worry or think twice about either of these things. If budget is a concern for you or your family, ask you memorial provider if they have any specials. Many providers will sell specific granite slabs at a discounted price to make room for new inventory, or if they have an abundance of a specific color. This is a great way to save, without sacrificing in quality.
Gravestones should be made to last, and we work hard to provide the very best in quality for every family who trusts us to help them memorialize their loved ones memory. The experienced team here at Delphos Granite Works are happy to help you in the memorial process from start to finish. Contact Us Today!