What makes a cemetery headstone stand out among the rest that surround it? Traditionally, through the years cemetery headstones have all taken on a fairly similar structure, style and look. These stones are timeless and beautiful, but today, memorials have become more unique to each individual family. The ability to customize each memorial stone has increased with growth and improvement in technology and technique in the hand of a skilled artist. Here are just a couple of the more modern techniques that create those beautiful headstones that stand out against the rest.
Laser Etching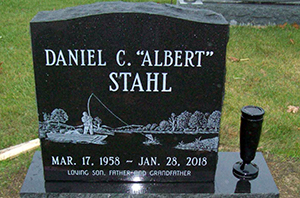 A beautiful black granite cemetery headstone can be transformed into a one of a kind piece of art with laser etching. Laser etching allows any high resolution image to be digitally laser transferred and burned into the surface of a memorial stone. A favorite family photograph can become a custom and lasting surface to memorialize your loved one forever. The possibilities are endless with this wonderful technique.
Diamond Etching Cemetery Headstones
Another great technique available to memorial artists today is diamond etching. This is the only technique that allows color to be added. Our artists actually use a handheld engraver to create this beautiful effect. A cemetery headstone with color is truly original, and will stand out next to any other. They are truly a charming and distinctive memorial to behold.
Here at Delphos Granite Works, we take great pride in all we do because we know what an honor it is to help you memorialize your loved one. What a privilege it has been to serve families just like yours for over four generations. We know that every family is different, and so should their memorial be. We are here to help guide in the memorial and grieving process, and hope to help you choose and create the perfect cemetery headstone. Contact Us Today!