When you think of grave markers and other memorial headstones, you may be sold into the idea that you can't afford high quality. Many families have skipped memorializing a loved one altogether or settled for poor stone quality or unskilled workmanship because they believed that great quality was not an option for them. We want to encourage you and help you to understand and know the options available to you, within your budget.
Budgeting is Helpful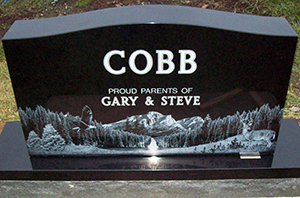 Talking with your other family members about a healthy budget for the purchase of your loved one's memorial stone is always a great starting point. If you have a good handle on a budget, you can present that to your memorial expert and they will be able to help direct you in the options available within that budget. You may be surprised to see you have many options available to your family. Memorial headstones can honor the memory of your loved one, all the while staying within your budget.
Discounted Memorials
Did you know that many memorial providers have monuments at a discount? Most often, these are the stones that they have an overabundance of. This is a great way to save on memorial headstones without sacrificing quality or in skilled workmanship. Sometimes these monuments are advertised, but not always, so don't be afraid to ask if they are an option for you.
These are just a couple of the ways Delphos Granite Works is working hard to help make the perfect memorial headstones and other monuments available and accessible to everyone. Every family deserves to have the privilege of honoring their loved ones. We have had the great honor to be able to work alongside families for over four generations creating beautiful monuments for every budget and family. Contact Us Today!