Today, many families are choosing to pre-plan their burial, and in many cases, even their memorial or cemetery headstone. Pre-planning has many benefits for your loved ones after you leave them. Here are a few benefits to choosing your own cemetery headstone.
Plan Together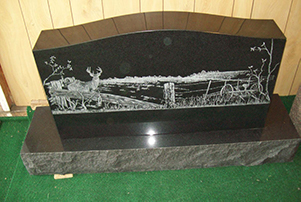 One of the biggest blessings when pre-planning is that you get to make the memorial choice together. After you lose a loved one, planning is one of the hardest things you and your family will do. Most of the time, this is because most families don't want to guess at what their deceased loved one might want. Choosing your cemetery headstone together can make this easier. Also, when the time comes to memorialize, you will have that planning process to look back on as a sweet memory with significance.
When you pre-plan, it allows both or all members to get what they want. This is especially true when you consider a husband and wife. A cemetery headstone will last for generations, and you will have the great honor to choose that together.

Pre Purchasing a Cemetery Headstone For a Loved One
Aside from planning, pre-purchasing is a great way to take care of your family, even after you are gone. Purchasing in advance will ensure that your estate and insurance will be used to care for your loved ones, instead of being used to pay for your memorial. Another great advantage to pre-purchasing is that it protects against rising memorial costs.
Pre Planning will allow you to plan now, and rest assured knowing it is already taken care of. Here at Delphos Granite Works, whether you are looking for a cemetery headstone or another memorial, we work hard to provide the very best of quality and service. If we can help answer any questions you may have about pre-planning, please contact us at your convenience, and we will help in every way we are able.