A granite bench memorial is a common way to memorialize the memory of a loved one, but finding the right provider isn't always as common or easy. It might seem easy enough to seek out the lowest price, but will you find quality? Here is a helpful guide to aid you in the journey of shopping for your granite bench memorial.
Quality Granite Bench Memorial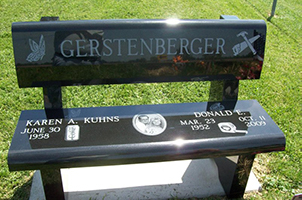 If you have decided you want a granite bench memorial, that means you love the look and durability that granite has to offer. However, did you know not all granite is the same? Yes, granite is created naturally, but poor conditions during its formation can create granite at a less than great quality. A good question to ask your dealer might be "what kind of warranty or guarantee do you offer"?
Quality Service is Free
Great service counts from the very start all the way to the finish. Many times bad service will show itself right from the beginning, and carry on through the entire process. Find a provider that values your business, and cares about what you are going through. Creating a memorial with a family is a great honor and privilege, and should be treated that way.
Quality Craftsmanship within budget
In your search for a quality granite bench memorial be sure to check their gallery or past memorials. A quality craftsman will have plenty of examples of great work to show you. You may even want to ask them what kind of technique they use to inscribe and to create their art. Finding a provider who takes pride in their work will be worth the extra time and effort.
Here at Delphos Granite Works we work hard to provide only the best in quality and care. We have considered it a great honor to work alongside of families to create memorials to last for many generations to cherish and enjoy. Whether you are looking for a granite bench memorial, or another monument, we are here to serve you and your family. Contact us today!