Shopping for gravestones can be a difficult task to take on after the death of a loved one. There is no set amount of time to start looking for gravestones or memorials for your loved ones resting place. One of the worst experiences for anyone in the grieving process is being rushed or pressured into purchasing a memorial stone. Shopping for gravestones should come after you have gone through the grieving process, not during. Every family will experience the grieving process differently, but its important to remember you don't have to hurry through it.
Though the loss of a loved one is difficult for everyone, the arranging of monuments, gravestones or memorials doesn't and shouldn't add to the burden. For many, with the proper care and guidance, creating a memorial can be helpful to the healing process. If you have found yourself in a situation where you are being hounded, or pressured to purchase gravestones, it's okay to separate from these kinds of providers in order to find a provider who will kindly guide you instead.
5 Stages of Grief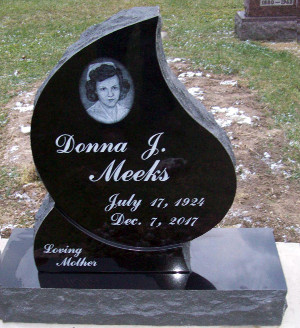 Studies have shown that there are 5 basic stages of grief. These five stages are denial, anger, bargaining, depression, and acceptance. Some will find that they will experience them all, and some may only experience some. The reason we share these is to help you understand it's not only okay but natural to be feeling and dealing with these emotions. Where does choosing gravestones and memorials for your lost loved one fit in, in all these waves of emotions? As caring memorial providers, we understand that there is a good and bad time to address the checklist. So many families deal with the stress of a checklist of all the things they must get in order while it may be better to take time, and just grieve in a healthy and healing way. Decisions about gravestones and memorials should come after you have come to a place of acceptance. Here at Delphos Granite works, we hope to help you through the process of creating a beautiful and lasting memorial piece that will honor the life of your lost loved one and you can contact us at any time.