It can be a challenge to find good quality headstones and stay within a budget. We hope to be able to help you understand how you and your family can save money and still purchase quality headstones. Let's face it, today's market has had an effect on all of our pocketbooks, and sometimes the unexpected costs after the loss of a loved one can be a little overwhelming. In some cases, memorial services haven't been planned for, and a grieving family is left with this burden. This can already be a stressful time, and adding financial stress can add to the load. It is so important to remember you are not required to purchase anything in a rush, and you should never be "sold" headstones your family is unable to afford. Beautiful headstones of great quality can be purchased within almost every budget. Here are some areas you may want to consider while shopping for headstones and gravestones to help you stay within a healthy budget for your family.
Size of your Memorial Headstones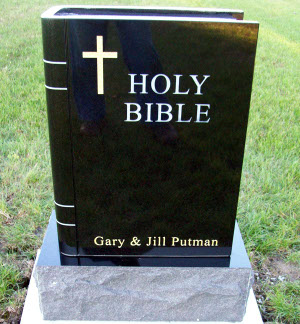 It is so important to remember that you do not need the biggest stone in the cemetery to provide a beautiful and honorable monument to memorialize the memory of your loved ones. When you start looking at headstones and all the options available to you, bigger may not mean better. You will want your memorial to last so do sacrifice on quality, in order to go bigger. Be sure you are working with a caring and respectable dealership.
Headstones Shop Sales
This may surprise you, but yes, dealerships often offer special prices or clearance on certain headstones. This can be because they have too many in stock, and need to make room, or maybe a less popular cut, design, or color. Don't be fooled into believing that these stones are of poor quality or less beautiful because they are less expensive.
Sweet and Simple Headstones
This may seem like a given, but remember, sweet and simple. You can easily save on headstones with a simple and elegant design. The more that is included on your stone, the more added costs there will be. So whether purchasing sweet and simple headstones, or looking for a more custom and elaborate memorial stone, Delphos Granite Works has what you are looking for, and we will help create beautiful quality headstones to last many generations to come...within budget so contact us.