Granite...metal...wood...cement...marble, there are plenty of options when you are looking to commemorate a loved one through a granite bench memorial. Deciding what material to use for your bench memorial can be tricky, but we want to help you decide.
Of course, we recommend granite bench memorials, but we want to help you understand why we believe they are the best available. Besides their beauty, constructing your bench memorial from granite will stand the test of time.
Granite and its nature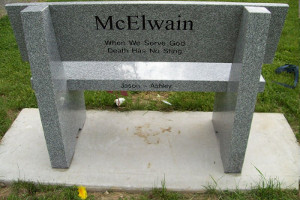 Granite Bench memorials are a great option because of the very nature of granite itself. Granite is formed by the earth through volcanic activity. Of course, it will be more durable, and weather resistant. When granite is found it is almost always very large, and able to be moved in tack because of its strength and durability. It only makes sense it would be the choice material of many builders throughout history for monuments they want to last many generations to come.
Low Maintenance Beauty
You may be able to find bench memorials in many material options, some less costly than others, but will they really save you money in the end? We can all agree that when we take the time to erect a memorial for a lost loved one, we want the very best available. We want that memorial to look beautiful from the beginning, and we hope it will stay that way for as long as possible. For this very reason, we believe granite bench memorials are the way to go. Granite has very little maintenance over time. Wood may require painting or weather conditioning. Metal may tarnish or rust and will need to be protected against these things and cement, though durable, many times will require more frequent cleaning. Maintaining these less expensive options may turn out to be no savings at all.
Whether you are looking for Granite bench memorials or any other type of memorial monuments, Delphos Granite Works is here to help direct and educate you in the best options available. We pride ourselves on a caring and knowledgeable staff, who will provide support from start to finish. Let us know how we can serve you and your family.