If you have found yourself in the search for grave markers, you may be confused about where to start. We hope this information will be found helpful to you at a time where help is needed.
One of the most common questions out there in concerns to grave markers, headstones, and monuments, in general, is "what do we inscribe on it"? The answer though simple will be different for everyone. The inscription should be what you and your family want it to be. Of course, there are always ideas and starting points, but it truly can and should be whatever brings you comfort, and whatever honors your loved one's life while they lived.
Grave Markers - Some helpful Ideas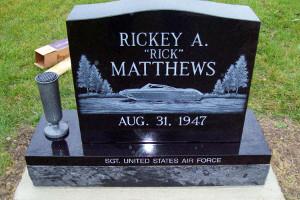 A great place to start will be to choose a stone or monument type, so you will know how much space you will be allotted. Grave markers come in many options, and there is something for just about every budget and style preference. Most grave markers include a few basic inscriptions, which may include a name, birth date including year and date of death including the year. From there, you can include anything that you see fit. Some choose to add verses of scripture, or poems. Some may include a favorite quote or life statement of their deceased loved one. A more custom option may be to include a picture inscription of your loved one. Some inscriptions on grave markers also include a bit of information about that person such as a favorite hobby, or a special interest. These are just a few suggestions on where to get started, but ultimately, the possibilities are endless.
Choosing inscriptions for grave markers doesn't have to be hard. Truly, it can be a part of the healing process and can be monumental for acceptance and grief. Be sure that your monument provider feels the same way you do. Find a caring dealership who will help guide you in every aspect of the process. Here at Delphos Granite Works, we are blessed to be able to come alongside families during a sensitive time and create beautiful grave markers and monuments that will last for generations to come so contact us to make that perfect grave marker to honor your family member.