Custom Gravestones and other types of monuments are becoming more and more popular today. In the past, a headstone was looked to as a symbol of wealth. Today, gravestones serve more as a celebration of a life lived. Perhaps, that's why so many people choose to commemorate a lost loved one with custom gravestones and monuments. Many families view memorial gravestones as a piece of art, in honor of their family members. Gravestones mark their resting place and will be visited many times, so making it beautiful and unique will serve as a great reminder of the love shared time after time.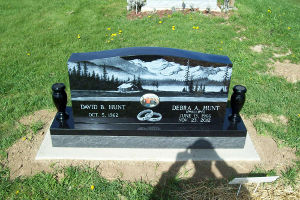 Custom Gravestones are available in many different styles and size options. Another convenient point to consider is the diversity in price. Though custom gravestones many be on average, higher in price, than a traditional headstone, because there are so many options, you are able to stay within budget. Many families choose custom gravestones to memorialize their loved one because that's what best represents the style and characteristics of their deceased loved one.
When you decide to consider custom gravestones as an option, you will want to find a provider who specializes in this area. This truly is an art and should be done with the utmost respect and skill available. Once you have found a provider, as a family, it is always a great idea to talk about your lost loved one, and decide together the areas of their life you want to be highlighted through your memorial gravestone.
For us at Delphos Granite Works, creating these beautiful custom gravestones and monuments is a privilege. Our artist is experienced and believes it is an honor to help a family create a piece of art that will forever stand as a reminder of the person who touched so many lives. Here at Delphos Granite Works, we have had 4 generations of creating memorials, and it truly is a great privilege to serve our clients. To learn more about Custom Gravestones, please contact us today.