If you and your family are in the beginning stages of planning a granite bench memorial and the dedication of that bench, this guide may help you get started. We hope to be able to help you organize and establish your memorial, and make the planning process go as smoothly as possible. Bench memorials are a beautiful and unique way to memorialize your lost loved one, but where do you start?
Granite Bench Memorial - Getting Started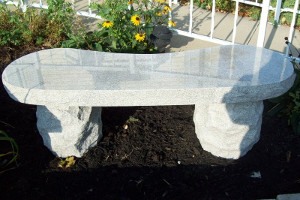 Once you and your family have decided upon a granite bench memorial, you will want to consider a location. You will want to talk it over and decide if you want your bench memorial on private property, or if a park or cemetery is more what you and your family have in mind. Some families prefer the privacy that home brings, and others may want to share the memory in a special public setting. This could be a favorite spot for your loved one to be memorialized. If you choose a public location such as a park, or a cemetery, your next step will be to contact them to secure permission. Some parks may have a guideline they prefer to follow, or specific locations may not be available.
Finding a quality supplier for a Granite Bench Memorial

After you have followed the proper channels to secure permission, you will want to find a reputable granite bench memorial supplier. When making such a beautiful piece of art in memory of a loved one, you will want it to last for many future generations to enjoy. Finding a trustworthy dealer will also aid you in the organizing of dedicating your granite bench memorial because they will have experienced, and will be able to guide along with you in the process.
A great supplier will be able to help you from start to finish. At Delphos Granite Works, we work hard to connect all the dots for you. After the loss of a loved one, we hope to be a hand extended and are grateful for the privilege of helping you memorialize your loved one. Please contact us today for more information about our granite bench memorial services.