Throughout history, there have been many animals that have left a permanent paw print on our hearts. Memorial Headstones and monuments have been erected all over the world in memory of those special furry companions and friends.
One particularly memorable and popular memorial was even documented by Hollywood. In Tokyo, Japan a memorial can be found in loving memory of a loyal dog. This memorial tells the beautiful story of a bond shared between dog (Hachiko) and the owner (Eizaburo Ueno) a college professor. This monument shares the touching true story of Hachiko, the Loyal Dog, and how he waited for his master every day after work at the same train station day after day. After a tragic and unexpected death, Hachiko continued to faithfully await the return of Professor Eizaburo Ueno every day for 9 years. The love of a pet is true. You can't help but get lost in the sweet memory of a loving pet.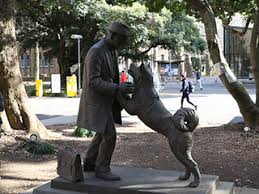 Pets and animals are a gift to the ones they love. With so many attributes to be admired, pets are loyal, loving, and always there for us. They make the best comforters, and companions a man could ask for. Our pets serve us the best they know-how, most times just being there in our company with us is enough. But when we lose them, they take a small piece of our hearts along with them. We truly grow to love our pets like our family members. Memorial Headstones for pets is a beautiful way to mark their resting place and keep their memory alive.
Memorial Headstones can be made in the memory of anyone we desire to remember. Here at Delphos Granite Works we work hard to create memorials that honor the loss of your loved ones. For more information about pet memorial stones, please contact us today.