A cemetery headstone is important in the memorial process, so choosing one can feel pressing. There are a few things you may want to talk about with your family before you start the memorial process. That will help you to have a better idea of what your wishes are, before you are making the final decisions.
Cemetery Location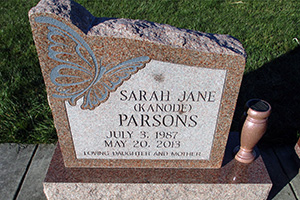 Choosing a cemetery location will be one of your first choices as a family who has lost a loved one. This may impact or limit your cemetery headstone choices, as most cemeteries have guidelines for the memorial stones in their park. This is to create a more uniform and aesthetically pleasing atmosphere. When you connect with your local memorial provider, they should know all the local cemetery guidelines already. If you choose to shop online, this is something you may be left navigating alone.
Setting a Budget
This may be difficult, but talking with your family members about a budget before you begin the memorial process may be easier in private. You may need to be flexible, but getting an idea of each others expectations may prove beneficial when shopping for cemetery headstones. In some cases, one family member may want the biggest stone available, and find that another family member was expecting a more modest memorial stone. A good memorial provider will help your family make choices to please everyone, and stay within your budget.
Choosing a Memorial Provider
We recommend a local dealer when searching for a memorial provider. This will be helpful for you, because they should be knowledgeable about all of the local regulations and will most likely already be in contact with others in the area. Many families have found that shopping online may seem appealing because of lower costs, but have found the lack of service and quality less than satisfactory. Here at Delphos Granite Works, we work hard to provide the very best in quality and service for the families we are privileged to serve. We are here for every step, helping to create the perfect cemetery headstone. Contact Us Today!