Whether you are pre-planning, or purchasing for a family member who has passed, purchasing a cemetery headstone is important. You want your memorial stone to be perfect, and convey the loving memory of the special person being memorialized. A cemetery headstone will rest in the place where loved ones will come to grieve, find comfort, and remember beautiful times spent with their loved one, so that memorial you are creating...should be done with great care.
It's okay to take your time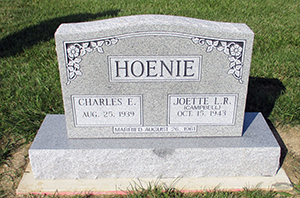 Today's world seems to move at high speed daily, but there is no reason to rush through the process of creating a memorial. It's okay to be thoughtful and take great care in choosing your cemetery headstone. Many families have found great comfort as they gather together to agree on that favorite picture to have etched on their loved ones grave marker. Or maybe sharing a laugh as they remember their loved one's favorite quote. We are here to say...you don't have to hurry.
As you Plan, Please remember
Planning and creating a cemetery headstone can be a difficult time. For some, it may feel final. Please, find a memorial dealer who will be there to support you in your decisions, and help guide you along the journey. A great memorial provider knows the value that a cemetery headstone has, and should treat the process of creating your memorial with respect.
If your family is planning to create a memorial cemetery headstone, we are here to help. Here at Delphos Granite Works, we consider it a great privilege to work along side families to create monuments to memorialize the life of their loved ones. We believe it's a beautiful thing to help a family in such a time as this. It is our goal to help guide you in the process, and provide quality, compassionate, and caring service to everyone. Contact us today!