If you have recently lost a loved one, memorial headstones might not seem important at the moment. We agree, and believe creating memorial headstones should come after the grieving process, not during. So many families have been rushed into planning and purchasing monuments or other types of memorials before they are ready. The process of creating a memorial for a loved one should be a meaningful process, and we consider it to be an honor to team up with families at such a time.
Why Memorial Headstones Help.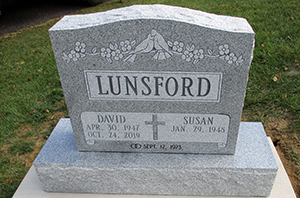 To some, digging up memories of a loved one who has passed, may seem like it will be far from healing. One of the hardest parts of the grieving process is the feeling of it being final, but it's at that point, that it is healthy to move into the area of memorializing. During this time, looking at, and choosing a picture for memorial headstones, or quoting a favorite Bible Verse to etch on their memorial will aid in the healing process. Every family is different and will grieve in different ways. There is no road map, and creating your memorial shouldn't be treated that way. Find a dealership that understands that creating your loved one's memorial is personal, and a moment to treasure.
Here at Delphos Granite Works, we have been blessed with the great honor of working with families just like yours in the process of creating memorial headstones for their loved ones who have passed. We don't take that lightly. In fact, we consider it a great privilege and take great pride in each monument and piece of artwork we get to create. For over four generations, we have been able to provide families with memorial headstones to mark their memory in stone for all to enjoy for many years to come. Contact us today!