The purchase of gravestones and other memorials doesn't have to be a stressful time. Finding a great provider will make all the difference in the process, and is a great starting point. Gravestones serve as a memorial of a loved one, so the process of creating their monument should aid in the healing process. Here we will go over a few ways your provider will come alongside you and your family in the memorial stone process.
Cemetery Regulations on Gravestones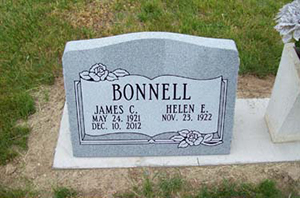 Your memorial provider should help you and your family navigate the regulations of your chosen cemetery. Many cemeteries have size regulations on their gravestones and headstones that are placed in their cemetery. This should defiantly be the starting point, because this may reveal any regulations that need to be considered when designing your memorial stone.
Staying in your Budget
Gravestones mark the memory of your loved one, and a great provider should be able to give you a beautifully executed memorial stone within your budget. One common misbelief about purchasing memorials is believing you have to sacrifice quality for the price. After a quick google search, they settled for the lowest price only to find poor service, quality, and craftsmanship. A reputable dealer will help you find a healthy budget, and create a beautiful quality gravestone within that budget.
See It, Approve It, Create It
Gravestones are unique to the memory of your loved one. Every memorial will look different, as it should be. Some monument companies will have beautiful quality computer-generated drawings of your discussed plan. They will be able to take all of your ideas and pull them together into an artistic digital example of what your monument will look like. This leaves room for changes and leaves less room for mistakes.
Here at Delphos Granite Works, we believe creating gravestones with families is a great honor, and we treat it as such. We hope to be a hand extended to help guide in the process. We have had the great privilege of helping families like yours for over four generations to create beautiful quality memorials, and we look forward to many more. Contact us Today!