Can you imagine with me? A beautiful spring day, a whimsical willow tree, a sweet soft breeze flowing over your skin. There are flowers all around and perfectly positioned Bench Memorials, one especially dedicated to the one you love. We have all had the privilege to sit down on one of these beautiful pieces of art in a park, or maybe in a cemetery. It is a sweet time to sit and reflect on the life that the one being remembered lived. What lasting memories a memorial can continue to create year after year, and generation after generation.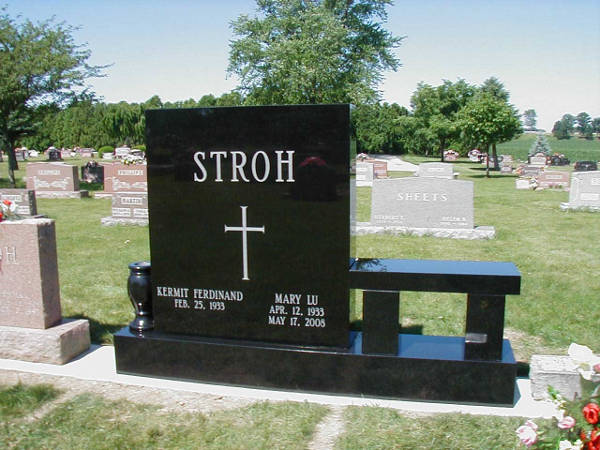 Losing a loved one is never easy, and we all feel it in different ways. We all find our own way to keep pushing forward, putting one foot in front of the other. Choosing a way to remember your beloved lost one is also different for everybody. Some may find it hard to bury a loved one, and cremation may have seemed more acceptable. In such cases, many have found comfort in the dedicating of Bench Memorials in honor of their loved ones. Sometimes, this is found in a place that loved one often visited, or was known for their involvement there. Or Maybe, in a park they favored. These memorials can be a lasting reminder of a handprint left behind by your lost loved one.
Here at Delphos Granite Works, we work hard to make sure that our Bench Memorials are a unique piece of lasting art. It is our hope that every time they are sat on, it creates a feeling of comfort and relaxation. Bench Memorials can be a great way to create a functional place to look back on memories shared with family and friends for years to come. Contact us today to have one of our specialists sit down with you and your family.