Gravestones can be customized in just about any way you can imagine, and that's what makes them such a special memorial. If you are looking for a memorial stone, it's because a loved one left a very unique imprint in your life, and you want to memorialize that. Just like that loved one was one of a kind, we believe their memorial should be, too. Custom gravestones are a great way to express who they were and what they have meant to so many others around them.
Gravestone Selection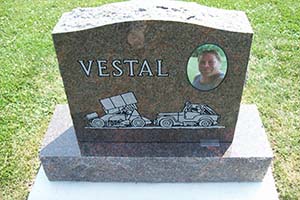 Granite gravestones, headstones and any other grave markers can be made to just about any size, shape, or style requested. Custom stones have become more popular in recent years, and if you have had the honor of seeing them it's easy to see why. With new technologies and techniques being perfected, artists are able to add just about anything to gravestones now. What once was standard and simple, is now able to be transformed into pieces of memorial art. Today, a favorite picture of your loved one can be etched in stone, or maybe their favorite sports team can be added. These custom memorials allow your family the freedom to express who their loved one was in a more visual way.
Gravestones from Delphos Granite Works
If you are looking for a memorial stone that will stand the test of time with beautiful artistry and a customized finish we are here to help you. Here at Delphos Granite Works, we have had over 4 generations of artists perfecting their trade, and helping families just like yours create memorials to be proud of. We consider it a great honor to be able to provide the highest quality gravestones and craftsmanship available today. We love what we do, and we hope to help you create the perfect custom memorial of your loved one. Contact Us Today!