After the death of a loved one, it can be hard to navigate what comes next. In part, that's because every family will celebrate or memorialize in their own special way. You can celebrate as simple as spreading ashes in a beautiful and significant place, and as big as a granite bench memorial in honor of your loved one. There is no right or wrong way to memorialize your loved one.
The Versatility of a Granite Bench Memorial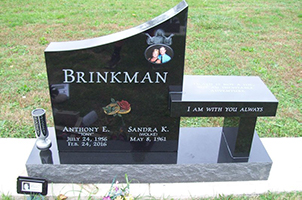 Granite bench memorials are growing more popular today, and being utilized in new places outside of the cemetery. You may have even seen them, or sat on them in a park, a school, grounds of worship, or maybe even a personal residence. Many choose a bench memorial over a traditional monument because they are both beautiful, and practical.
Gifting a Granite Bench Memorial
Gifting a family with a granite bench memorial is a beautiful and creative way to honor the memory of a person who made an impact on your life, or on the lives of those around them. It's important to remember you can actually use and enjoy a bench memorial, too. If you and your family have decided a granite bench memorial is how you wish to honor the memory of your loved one, you will want to start with a trusted granite provider. In your search, be sure to look for a dealership that has positive testimony from past families, and a gallery of examples of their craftsmanship. In doing so, you will be sure to find a quality granite provider,
Whether you are gifting a memorial, pre-planning, or memorializing a lost loved one...you can be sure Delphos Granite Works is a great place to start. With over four generations of service to families just like yours, they will take care of you from start to finish. Your memory deserves to be etched in stone. Contact us today!