Take a second to think about the person you are going to memorialize. No matter who it is, we can all agree...they were one of a kind. They endured hardships, they embraced loved ones, they were molded into someone that is unique, and different than anyone else you have known. Headstones and other memorials should be the same...one of a kind. After all, it is in honor of someone that is one of a kind.
Headstones are erected all over the world, different, unique, and beautiful, in memory of a life that left an impact on those around them. You may be wondering what you can do to make the memorial of your loved one unique. Custom headstones are a great option for those who want to take a more artistic approach for their family members' memorial monument.
Custom headstones are growing more and more popular as technology and crafting tools have improved through the years. Today we use 3 main techniques to create our beautiful custom headstones, gravestones, and other memorials. Our artists use deep cut engraving, laser etching, and diamond Etching to achieve the lasting quality results on our monuments.
What's the difference in headstones?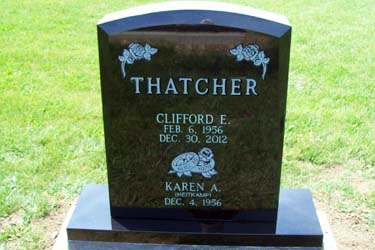 Deep cut engraving: Deep cut engraving is the most commonly used technique for etching and engraving on headstones today. It is achieved with a special stencil, and sandblasting, creating an even, and polished look.
Laser Etching: Laser etching is another great way to achieve beautiful results, and is most often used to create artwork on headstones and monuments. Laser etching is normally done after the engraving, and it adds a personal and custom look to each piece. The great benefit this technique offers is its ability to add great detail that sandblasting cannot.
Diamond Etching: Diamond etching creates a very unique and artistic touch to headstones, and is the only option available to add color to monuments. This technique is done with a handheld tool, creating a truly one of a kind memorial.
Each of these options are available here at Delphos Granite Works, and we take great pride in all of our headstones and memorials. We consider it a great privilege to help you create a one of a kind memorial in honor of your loved one. Contact us today to find out more!