After you suffer loss there is no easy way to move forward. There are no set rules on how to grieve, and there most definitely is no right or wrong way to get through it. Everyone goes through the process a little differently, and at their own pace, so choosing a cemetery headstone for a memorial celebration comes at different times also. We want to express to you not to feel rushed or hurried along. Yes, it is important to take steps toward memorializing your loved one, but not before you are ready. When you and your family have come to a place of acceptance after your loved ones passing, it is a safe time to start the process of choosing a cemetery headstone.
Starting to Choose a Cemetery Headstone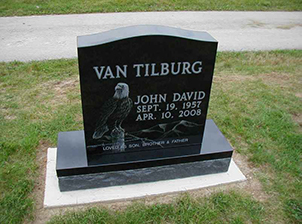 A great place to start is by setting a budget. If you are not sure of a starting point, calling a trusted memorial dealership might be helpful to give you a better idea of starting prices. You will want to discuss this sensitive subject with all who will be involved in the purchase of your memorial stone. Rest assured, once you have set your budget, if you have found a quality memorial provider, they will work with you to design the perfect cemetery headstone while staying within your budget.
Choose a Provider
Once you have established your budget, you will want to find a trusted and recommended memorial provider. The internet is full of "deals" and low prices on memorial stones, but don't sacrifice quality and experience for a lower price. A cemetery headstone is meant to last for many generations to come and reflect on the memory of the life your loved one once lived. Many times, poor quality stones won't stand the test of time, so as you can imagine, it's key to find a provider who will create a timeless piece of art.
Choose your Memorial
After you and your family have set your budget, discussed your options, and choose a trusted memorial provider, it's time to choose the perfect cemetery headstone. There are plenty of beautiful and unique options available to create a beautiful headstone. Granite is the most popular, and once you see all the options, and understand it's outstanding properties, you will understand why. Here at Delphos Granite Works, we work hard to make the memorial process a time of peace and reflection. We consider it our privilege to help your family create a cemetery headstone that captures the beauty of a life well-lived. Contact Us today or visit an Authorized Dealer near you!