Losing a loved one is never easy, and we know it can come with other unexpected costs that may not have been prepared for. The cost of funeral arrangements and other memorial expenses can add up, if it wasn't planned for. Some families are able to plan ahead, and prepare, while others may not have that option, and that's okay. No matter what the circumstances, we believe every person deserves to be memorialized. For those who might be feeling like a memorial stone isn't an option, grave markers and bevels might be the perfect solution.
Grave Markers may be the answer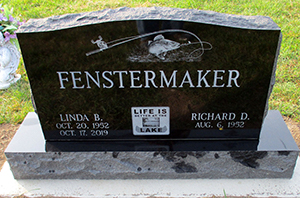 Many times, families will sacrifice quality to purchase a larger stone, and in a few years time, find out their stone doesn't hold up to the elements. This can be for many different reasons, but your family doesn't have to settle for poor quality. Sometimes the lower priced gravestones are made with techniques that allow them to produce something that looks nice at purchase, but it fades quickly. There are plenty of options available with reputable and trusted memorial providers, when it comes to staying on budget. Grave markers, and bevels are a great option at a lower starting cost. Their lower price isn't because of poor quality, but rather for their size. They offer all of the details, on a smaller scale. Also, many aren't aware that memorial providers often have sale prices for granite slabs. That may be to make room for new stock, or because they have too many of one particular color. Whatever the reason, it's usually still a great option.
Here at Delphos Granite Works, we work hard to create beautiful memorials for everyone. Whether searching for grave markers, bevels, headstones, of other memorials, we can create the perfect memorial for your loved one. We have had the great privilege of working with families for over four generations to create beautiful quality granite memorials, and we look forward to helping you, too. Contact us today!