It can be hard to find a way to memorialize your loved one who has passed away if that family member was cremated. Though there is nothing wrong with cremation, it can leave family members with a feeling that there is more to be done. Celebrating their life with a granite bench memorial is a great way to recognize and honor what they meant to you, and undoubtedly, many others. In addition, a granite bench memorial can also aid in the healing process. The tradition of a burial, has helped many families to feel a sense of closure. In a sense, it allows the loved one who is grieving the opportunity to move forward.
Other locations for Granite Bench Memorials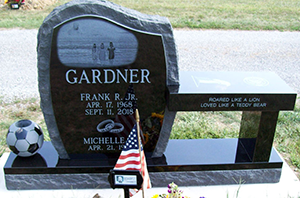 Some families take a trip together, and spread the ashes of their loved ones in a treasured place. Others choose to keep those ashes, and display them in a special place. Another great option is a granite bench memorial in their honor. A bench memorial can be placed at a personal residence, maybe in a garden area. Families also donate and dedicate granite bench memorials to local parks, or church yards where others can utilize and enjoy them. If your loved one was active in an organization, maybe a bench memorial in that location recognizing their work would be an honoring gesture.
There are so many beautiful and unique ways to memorialize a loved one who has passed. Whether you choose a granite bench memorial, or something else, we are here to help you along the way. We look forward to answering any questions you may have, and carefully aiding in the process of memorializing. We believe the memorial process should be a time of reflection, and it has been our privilege to help families create custom memorials for over four generations. Contact us today!