Finding a cemetery headstone provider isn't exactly a common task. Most people will only do it once in their lives, unless they had a bad experience the first time. You might be wondering what to look for in a quality and trustworthy memorial provider. While every family is different, and may appreciate one quality over another, we believe there are 3 basic principles every dealership should possess.
1. Compassion for their Clients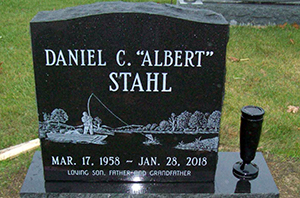 This may seem like a given...but that sadly isn't the case with every memorial or cemetery headstone provider. Compassion and respect should be the top of the list, in our opinion. It is a great honor to share in the memorial process of a lost loved one. It's a privilege that truly shouldn't be taken lightly. Creating a memorial is done in one of the hardest trials of life, and a provider should be there to offer support, and aid in the healing process. If you have found a dealership that focuses on up-sales, and speed, chances are, compassion and respect are not on their list of necessities.
2. Knowledge surrounding their trade
Who's job is it to know and understand the in's and out's of cemetery headstone installation and creation? Your provider should know and help take care of the details. A great provider will already know the regulations of local cemeteries, and help you navigate gravestone designs that will fit within those guidelines. Not all providers will "provide" you this information. Some online dealers will make whatever stone you wish to create, but won't be there for support during installation. Imagine if you were not aware of cemetery guidelines, and your finished memorial doesn't fit said restrictions. In cases such as this, the buyer is responsible for the cost of a cemetery headstone they are unable to use. Finding a provider that will be there from start to finish, will be of such a comfort to you in an already difficult time.
3. Experience
Experience goes a long way. A great cemetery headstone provider will just get better as the years pass. They will grow in experience and learn new techniques as well as perfecting the ones they know work well. If you aren't sure whether or not the provider you found is experienced, don't be afraid to ask for examples of their past work.
We believe these 3 areas are a must for any memorial provider. Here at Delphos Granite works we have had the great honor of helping families just like yours create beautiful and meaningful memorials for over four generations. We look forward to serving you, and are here to help guide you in the memorial process. Contact Us Today!