Not many things in this life remain timeless, but quality gravestones seem to hold the title. Have you ever taken the time to notice, that not too many changes in the area of gravestones and monuments? You can see in recent years, the style has evolved a little, but traditional grave markers seem to always retain their charm. Their timeless beauty and tradition seem to live on from generation to generation.
What makes a timeless look?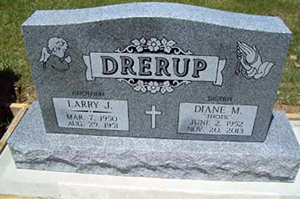 Gravestones, while still holding onto their traditional roots, are getting more and more unique as newer techniques are being developed. In today's memorial market, custom monuments are becoming more popular. Today laser etching is available. Laser etching can take a job once only done by hand and many many hours of work, and in the hands of a skilled artist, take half the time to create. In addition, diamond etching is also available today, which allows artists to add color to gravestones and other monuments. Not all gravestones are created using these specific techniques, but be sure in your search you find a monument provider who is experienced and takes pride in their work. That is what will create the timeless look you desire.
Finding a reputable dealer
Not every dealer will provide a timeless monument. Unfortunately, just like new techniques have been developed to create quality gravestones, new shortcuts are being used as well. Some dealers focus on speed and quantity as opposed to craftsmanship and quality. Many of these stones will look pretty for a period, but won't stand the test of time. Gravestones need to be cut and etched at a certain depth to retain their beautiful lettering and artwork, if they are not, it will not last. If you are looking for a memorial dealer that will provide a quality and timeless look, we are here to help. Here at Delphos Granite Works, we have had over four generations to grow and perfect our techniques, and we pride ourselves on the beauty of every memorial we get to create. We consider it an honor to memorialize your loved one on stone, and we hope to be able to help you create the perfect memorial. Contact Us Today!