When you think of a granite Bench Memorial, you probably think of a beautiful piece of art, made to memorialize someone who impacted the lives of those around them. Maybe placed in a local park, or in front of a museum, or a church yard. All of these are wonderful options, but did you know, many families are opting to erect a granite bench memorial, in place of a headstone? This isn't the traditional grave marker, but can be both beautiful and practical.
A traditional headstone differs in both appearance and practicality. Headstones are our traditional and most common option, but don't offer a comfortable place to sit and reflect. For many, that's okay. What a granite bench memorial lacks in tradition, it makes up for with it's practical use. I'm sure you can imagine how sweet a moment it would create to sit at the resting place of a loved one and just talk.
Choosing the right Granite Bench Memorial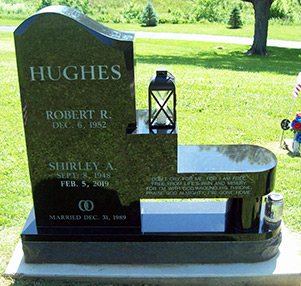 Choosing a granite bench memorial will also offer more space for memorializing. A headstone is also a wonderful choice...but what about when there is more to say, or your family wants something more unique. In simple terms, a bench memorial, has more surface area to inscribe and add custom artwork to. Sometimes, it's hard to pick just one picture, or choose one favorite quote, and a bench memorial might be just right for your family monument.
Here at Delphos Granite works, we know every family is different, and will want a beautiful and unique memorial for their loved one. We are here to help along the way, and consider it a great privilege to help design, create and erect your family's grave marker...whatever style that may be. We recognize that to every family, that might look different, and hope to help you walk through the process with peace of mind. Find a dealer near you!